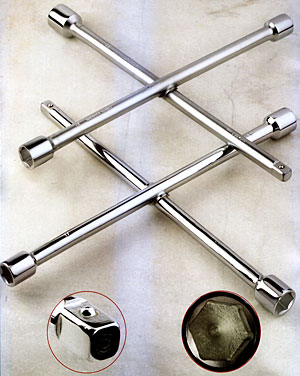 FOUR WAY WHEEL NUT WRENCH 290001
Standards
Code No. 290001
DIN 3119
ISO 6788
Chrome Vanadium Steel (31 Cr V3), hot induction forged fully hardened, electro welded. Available in Ni Cr plated finished / powder coated.
These are professional tools in every respect. Designed for removing Wheel Nuts on cars, light & heavy vehicles. The range boasts for… models suited to different vehicle categories… Models have ½" (12.7mm) or 3/4" socket, which means they will fit any wheel nut on the market worldwide.
We also produce Four Way Wheel Wrench sockets in flange drive thereby meaning much longer service life of the wrench as well as the wheel nut.
Four Way Wheel Nut Wrenches are also available with reinforcing.
Also available in Folding.