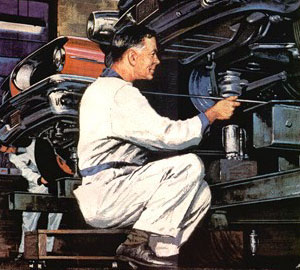 HAND TOOLS – LEADING THE WAY…
AARKAY is recognized for its dedication towards quality.
The hand tools that are quietly making their mark in both international and domestic markets are a product of this sprawling 100,000 Sq Ft. area in Faridabad, a reputed industrial hub in northern Indian state of Haryana. The manufacturing area is equipped with most modern infrastructure and facilities, is the floor where some world class hand tools are manufactured. Aarkay Forge is all about Hand Tools.
Like we said, our hand tools ride on the best of infrastructure and is driven by its own quality standards. Our manufacturing process includes:
Continuous Heat Treatment Shaker Hearth furnace, which has controlled atmosphere having Gas Fired hardening chamber that ensures no burning, scaling or decarb layer, a huge advantage over conventional oil fired furnaces. Conveyer based tempering furnace that is all electrical, which ensures even grain structure for the tools.

All forgings are done by induction heating, which keeps the environment in the forge shop hygienic and free from pollution and smoke.

Machining for various required sizes and specifications is done on CNC / SPM / Lathe / Milling / Thread Rolling and Drilling machines. The three profilator machines, equipped to profile different sections take care of the different shapes from round to hex to square etc.

Complete in-house testing facilities for hardness, computerized torque, plating thickness, load test, endurance test and salt spray life.

The visual appeal of our tools is enhanced because these tools are shot blasted, belt grinded and vibro polished before being plated.

The plating and phosphating plant is spacious with clean working environment.
Quality of products and services is assured through the rigorous implementation, effective monitoring and continuous update of Aarkay's fully certified quality system. The system forms the cornerstone of our continuous improvement programme.
Our stringent, uncompromising quality standards come into play at the very beginning of our manufacturing process. All the steel used in our manufacturing is chrome vanadium. These are sourced from reputed steel rolling mills in the country. They are then put through series of tests to ensure best quality.
We inspect our tools that leaves our plant at each stage of production and therefore all products come with a complete warranty to you.
SERVING THE HAND TOOL INDUSTRY SINCE 1992